That is why, 2 of our in house iOS Apps, are about augmented reality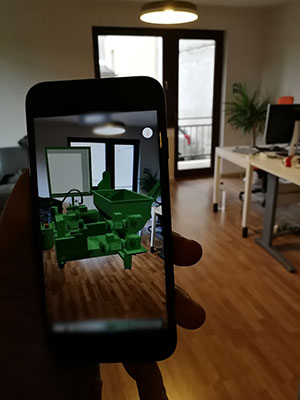 The SDK of choice for out apps is provided by Wikitude and in our opinion it's the best right now on the market. They have a comprehensive list of products that relate to the augmented reality world. 2D image recognition, flat surface detection, 3D object recognition and more.
First app. A marker is detected and we display a 3d model on top of it.
The same app was used to detect a poster and we've been able to enhance it by displaying push buttons that would allow the user to read more about the product.
Getting the app to be approved in the App Store was a piece of cake. We believe that one of the reasons was because we did not use any mobile app development framework. Coding using native languages is one of Upward International's way to do business.
Second App. Conference social interaction using phones and badges.
Our partners from US host each year a conference about marketing. This year they had this great idea of mixing augmented reality into every attendee's normal conference routines.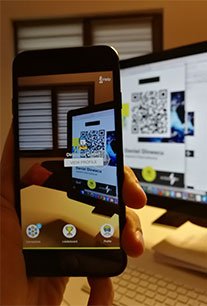 We've created about 500 badges that looked the same, but different so we can assign them to real persons. Upon receiving payments to attend the conference, we entered everyone's details into our content management system that was helping the app function in the background and the app was ready to detect.
To make things even more interesting, we introduced a leveling up system for people who were actively using the app.
If you would detect a person that wants to use the app too, you would also have the possibility to buzz the person by sending a push notification to his/her's phone.
Overall, this was a very nice project. If you would like to learn more about what we can do in Swift and Java, give us a call or contact us using the form below.